Results Day 2022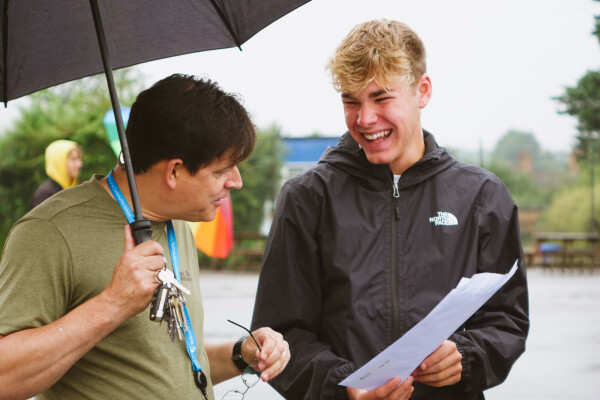 Testbourne Community School is celebrating a year of exceptional achievements by its students in their GCSE and BTEC qualifications this summer. 85% achieved a 'standard' pass of grade 4 and above in both English and Maths combined. Almost a quarter of students achieved the top grades, 9-7, in both English and Maths. We offer our congratulations to everyone in the year group.
A staggering total of 135 grade 9s were achieved by our Year 11s, with six students achieving an average grade 9 across all their subjects, and 21 students achieving an average grade 8. The rigours of GCSE exams means that these are phenomenal achievements. This is in addition to many other students who made great progress during their time at Testbourne.
Students excelled in many subjects, achieving outstanding pass results and pass rates above 85% in Art, Biology, Chemistry, Computer Science, Combined Science, English Language, English Literature, Design Technology, Food Preparation & Nutrition, French, Geography, Maths, Drama, Physics, and RE. 49 grade 9s were achieved across Biology, Chemistry & Physics, with 19 grade 9s achieved in either English Language or Literature, and 19 grade 9s in Maths. In Design & Technology, the number of students achieving a 'strong' pass of grade 5 or above has more than doubled since 2019.
Despite the challenges our Year 11s faced during their studies due to COVID-19, our students showed resilience and determination. They fully deserve praise and recognition for having achieved fantastic results that are brilliant preparation for the next stage in their education. We also recognise the role our incredibly supportive parent community have played in these achievements.
Mr Beck, Headteacher at TCS said:
"We are proud that our staff and students have shown the resilience and determination needed to achieve success in the face of adversity. COVID-19 presented the whole school community with a great many challenges over the last 3 school years so it was a delight to see so many students happy and thrilled when they opened their results envelopes. Our staff have worked tirelessly to deliver a quality education to our students, whether in school or remotely, to enable them to progress onto further education and study. We offer our heartfelt congratulations students and look forward to hearing about what our Class of 2022 achieve in the future."