Career Education, Information, Advice and Guidance
Careers Co-leads: Mrs Sudds (Senior Deputy Headteacher) & Miss Lauren Cartridge (Careers Lead).  Contact:  admin@testbourne.school or phone 01256 892061.
We offer a bespoke programme of careers education, information, advice and guidance (CEIAG) designed to give students age-appropriate information about different progression routes and careers options, and to develop the skills they need to be able to pursue their goals. Our careers education provision is predominantly delivered through the Personal Development curriculum, supported by assemblies, workshops, trips and visits, external speakers, work experience and one to one careers guidance interviews.
The taught element of our CEIAG provision is delivered through the 'My Future' theme within Personal Development lessons.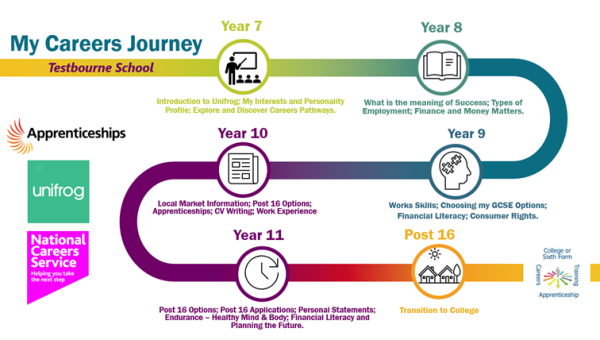 During their time at Testbourne Community School, all students will receive the following: 
Bespoke transition support from primary to secondary school

 

A careers education programme including lessons, workshops, external speakers, work-related learning and taster days.

 

Regular feedback on academic progress and how to improve so that goals can be achieved.

 

Support to develop better self-awareness to help students recognise their own strengths, areas for development, skills, motivations, and abilities.

 

Assistance when accessing and understanding information regarding open days, jobs, colleges, universities and apprenticeships. 

 

Signposting to local and borough-wide opportunities such as careers fairs and workshops facilitated by Hampshire Pathways.

 

Guidance and support when making decisions about KS4 course options in Year 9.

 

Parent Information evenings to provide information and guidance to parents and carers at each key stage.

 

Bespoke support when completing application forms, writing personal statements, and CVs.

 

Personalised career guidance and support from a qualified careers advisor.  All students receive at least one individual careers interview.

 

The opportunity to work with employers in Year 10.

 

At least one meaningful encounter with an employer, each year. In 2022-23 visitors included a Neonatal Surgeon and a Neonatal Surgical Nurse, a graphic designer, the Police and British Horse Racing.

 
Additional examples of CEIAG opportunities at Testbourne Community School: 
'Dragons Den' event – Year 10 Design Technology Students pitched their ideas to a panel of VIP judges.

 

National Careers Week – all curriculum areas made links to future career opportunities connected with their subject. Teachers also created and displayed their own career profiles, outlining previous employment and qualifications. 

 

National Apprenticeships Week – all curriculum areas will make links and a virtual presentation will be available.

 

Amazon Class Chats – virtual interactions with Amazon employees about their role in Tech.

 

Live virtual careers fair promoted to all students (and parents) as part of National Careers Week 2023.

 

STEM Day – all of Year 7 participated in a Science, Technology, Engineering and Maths event engaging with presenters talking about various careers within STEM.

 

Year 9 Mathematicians linked up with Queen Mary's College to take part in the 'Quirky Maths Club' sessions.   

 

Students competed in the Teen tech Awards, Crest awards and AWE challenge days in Science.

Year 8 National UK Maths Challenge UKMC – 40 students logged on remotely to take part.

 

Duke of Edinburgh Award including links and visits with a school in Uganda 

 

Open schools Software Challenge run by Surrey University - designing an App for a charity.

 

KS3 Creative Writing competition with the opportunity to have their work published.

 

Year 11s had a visit from Portsmouth University who delivered Student Finance workshop.  

 

Opportunity to investigate at least two famous designers and two companies for Design and Technology GCSE

 

Year 10 'speed networking event' in which all Year 10s had the opportunity to virtually meet and ask questions to a wide range of professionals from varying industries.

 

Weekly updates on Teams sharing a wealth of virtual experiences, employer engagements and 'Why should I study …?'

 
We regularly evaluate our careers programme against the 'Gatsby benchmarks', which is a framework of best practice.  Further, we measure the impact of our provision through student voice surveys, work experience evaluations and in monitoring participation rates of students after they leave year 11.  Latest published figures show that 97% of Testbourne school leavers stayed in education or employment after finishing key stage 4, which is above the local authority average (95%) and national average (94%).  Source: Testbourne Community School - GOV.UK - Find and compare schools in England (compare-school-performance.service.gov.uk)
Where do our students go after they leave Testbourne?
| | | | | | |
| --- | --- | --- | --- | --- | --- |
|   | 2017 | 2018 | 2019 | 2020 | 2021 |
| Sixth Form College/School | 106 | 108 | 97 | 103 | 117 |
| FE College | 31 | 42 | 51 | 38 | 39 |
| Other Ed inc. Traineeship | 0 | 0 | 0 | - | 0 |
| Non-Emp Training (FT) | - | - | 0 | 0 | 0 |
| Emp (FT) inc. Apprenticeship | 6 | - | 7 | 7 | 8 |
| | | |
| --- | --- | --- |
| Education Programme Type | Testbourne Community School | Hampshire 2021 |
| Level 3 - A levels | 103 | 6407 |
| Level 3 - Technical | 32 | 2667 |
| Level 2 - GCSEs | 0 | 105 |
| Level 2 - Technical | 16 | 2294 |
| Level 1 - Technical | 5 | 832 |
| Other Education Course inc. Traineeships | 0 | 182 |
| | | |
| --- | --- | --- |
| Year 12 Establishments | Leavers from TCS | % of Programme Leavers |
| Peter Symonds College | 70 | 44.9% |
| Queen Mary's College | 46 | 29.5% |
| Sparsholt College | 17 | 10.9% |
Year 11 leavers from TCS moving to education programme also attended Andover College, and Basingstoke College of Technology.
Information for Students
Local Colleges 
BCOT: https://www.bcot.ac.uk/ 
Queen Mary's College: https://www.qmc.ac.uk/ 
Sparsholt College: https://www.sparsholt.ac.uk/ 
Andover College: https://www.andover.ac.uk/ 
Peter Symonds College: www.psc.ac.uk 
HSDC (Alton) College: https://www.hsdc.ac.uk/ 
Other useful websites:
Unifrog - The complete destinations platform. – Unifrog brings all available career information into one single, impartial, user-friendly platform. This is the platform that we use throughout our My Future lessons in Personal Development.
https://careermap.co.uk/live-careermags/  - Careermag for School Leavers explores the different opportunities available to students after school or college. Careermag for School Leavers includes: Sector Spotlights which looks at exciting careers; inspiring case studies from students who have been there and done it; and employability articles to help better prepare you for the world of work. 
https://nationalcareers.service.gov.uk/ - The National Careers Service can help with career, learning and training choices. There are over 800 job profiles which tell you what a job involves and how to get into that career path. It also provides help with CVs and interview advice. 
https://www.careerpilot.org.uk/ - Career pilot has a range of careers information and tools for 11-19 year olds 
https://icould.com/ - icould.com is a website which uses the power of personal stories to inform and inspire young peoples' career choices. It has the ability to match potential careers to subjects studied at school and college.  The site features over 1000 videos of real people talking about their careers – explaining their job role, career path and how different factors have shaped their choices. 
https://amazingapprenticeships.com/ - This website has a huge wealth of videos, factsheets and information all about the different types of apprenticeships.  
https://successatschool.org/ -This site provides useful careers guidance and includes a 'careers zone' which focuses on different jobs and which subjects to study. 
https://targetcareers.co.uk/ -Target Careers is an online guide to potential career paths. It helps students in choosing the most appropriate Post 16 subjects and which careers require specific degrees or A levels. 
Take the Test (stepintothenhs.nhs.uk)
NHS careers AtoZ (stepintothenhs.nhs.uk) - The NHS has many different careers opportunities and Step into the NHS has been designed to help guide students and young adults in whether to / get into a career working for the NHS.
Information for Parents
https://careermap.co.uk/live-careermags/ - Careermag for Parents connects students and their parents to the latest career and qualification routes available. Careermag for Parents helps parents and carers understand the options available for young people as well as dispelling industry myths and misconceptions along the way. 
https://www.parentalguidance.org.uk/ - Careers information, advice and guidance from the Career Writers Association for parents. 
https://www.careeralchemy.co.uk/ - Useful resources for parents which provide guidance on how to help their son/daughter explore their future career path. 
https://amazingapprenticeships.com/parent-zone/ - Parent guides to T Levels, Apprenticeships
Information for Staff
Please see the Personal Development section within SharePoint for all resources relating to Careers Education.
Please contact Mrs Sudds or Mrs Edward-Boyce for further information.
Information for Employers and Providers
If you are an employer or provider and would like to contact the school regarding potential opportunities for our students, please contact admin@testbourne.school.
You can find our Provider Access Policy here: Policies - Testbourne Community School
In order to make informed career decisions, it is useful to understand the Labour Market Information (LMI) for our region.
This includes information about the largest employers, the jobs likely to be available, employability skills needed, particular skills shortages and qualifications required.
Our region falls within the Enterprise M3 Local Economic Partnership (LEP). It is a £55 billion economy with 760,500 jobs and workforce of 804,500 people.
To get a national perspective across the regions of England see the Labour Market Information produced by the National Careers Service below.