Head Teacher Open Evening 23 Speech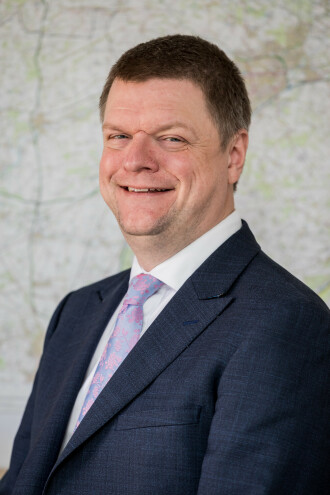 "I hope you have enjoyed your visit so far this evening.  I would like to extend a warm welcome to everyone here tonight and thank you all for coming.  
I'd like to start by saying that it's an absolute privilege to be the Headteacher of Testbourne Community School.  It is a wonderful school that we are all very proud of, made more fantastic by its body of truly amazing students, many of whom you will have met this evening.  
Before I continue, I want to answer one of the most frequent questions I get asked: Will we get in if we are out of catchment?  If you live out of catchment, there is a good chance that you will get a place.  This is because the Year 6 population in our catchment schools is usually significantly lower than our admission number.  We are a popular school but each year, we can usually accommodate a considerable number of out of catchment applications and for the current year 7, we have taken more children than our admission number to spare families the worry of not getting a place allocated in March. You can get more information on admissions and transport from our website and in your packs. 
I want to use the remainder of my time to tell you a little about my philosophy and beliefs and how these shape our approaches as a school. 
I have always held a belief in the power of education to change lives.  Indeed, I am a product of that belief.  Alongside that ideal, I am passionate about the right of all children to receive the highest quality education.  I am dedicated to providing opportunities for all children, irrespective of background or need, to excel academically and to develop and excel in their other areas of interest.  In fact, I am a big believer in needs of the individual before labels.  The government may wish to categorise everyone, but your children are all individuals.  I want children to gain the excellent exam results they deserve – and that provide a gateway to their future – and at the same time, enjoy and value their experience of education and have a range of experiences.  I want them to become inquisitive and passionate learners so that they develop the skills that will aid them in what will be a competitive future. I am in the privileged position that allows me to bring my ideals to life at Testbourne Community School and I shall expand a little more on those.   
One thing I think parents are very keen to know about is behaviour and culture.  Will my child feel safe?  Will be child be able to learn free from disruption?  Will my child be well looked after?  We have a very specific culture in our school.  One founded in the importance and love of learning, the highest expectations and our four Testbourne Standards of Excellence.  These standards are Kindness and Respect, Honesty and Integrity, Ambitiousness and Leadership. These qualities are at the core of shaping our students for their futures.  The inclusivity of choosing to recognise qualities, rather than academic achievement alone is deliberate.  All students can access these qualities and demonstrate them in school.  Throughout the year, the recognition points that students earn are tied to the Standards of Excellence.  They underpin how good behaviour is recognised in school and how behaviour below our expectations is addressed. Our focus is on recognition rather than material reward.  Intrinsic value over material value.  The year's climax is our prestigious Prize Giving evening in Winchester Guildhall is where we recognise students for excelling in the demonstration of our Learning Qualities.   
Children at Testbourne are polite, kind, respectful, hard-working, friendly and helpful and they are often the focus of the positive comments of our visitors who, without exception, remark on the calm and focused atmosphere in school.  Suspensions are unusual, disruptions to learning are rare, the school is calm and productive.  Relationships between staff and students are very positive and underpin everything we do.  Testbourne is a very happy school.  When things do not go well, we have a general principle of referring children back to the Standards of Excellence and giving them time to reflect, to understand their behaviour and how to put it right next time.  We balance modelling good behaviours and teaching children about appropriate behaviours with consequence when needed.   
We take great pride in our school culture.  It is something that makes us exceptional.  You can see it for yourself during the Open Mornings, so if you are not familiar with our school, please do see the website and book your place. 
As some of you may know, one of my children is autistic with a PDA profile.  This means I have a great deal of empathy for- and personal experience of the challenges that this can bring for the family of a child in a mainstream setting.  I have a very specific philosophy around Special Educational Needs that is borne of my experiences.  I am very proud of our SEND department.  We have a highly skilled and experienced SENDCo and Assistant SENDCo and a dedicated and capable team of Learning Coaches who are here to help the children overcome the barriers to learning that their needs may cause.  We do not believe in shadowing children all day as this makes them too dependent on support and is not something that is wanted by teenagers who are often desperate to fit in.  Instead, in partnership with our parents, we aim to help children with SEND become independent, resilient, and responsible young adults to put them in good stead for the future.  Our strategies hinge on ensuring children do not miss their usual lessons and can access the learning from our specialist teachers. 
Pastoral support has always been a large part of work in schools. Teenagers are complex people going through a range of emotions and situations and, like many people, need guidance to find their way through them.  It is the job of our pastoral staff, including Year Leaders, Safeguarding Leads, ELSAs, Counsellors, Inclusion managers and others to ensure that children's barriers to learning are removed.  At Testbourne, we have a dedicated and successful team who can support your child.  They take an approach that is grounded in the latest research regarding anxiety and emotional care.  They ensure the highest attendance, the sanctity of learning time and the building of resilience in those who are struggling.  It is that work that means children will not miss out on education, will be able to have choices in their next steps and will be able to have the skills and attributes needed to survive adulthood. 
All the above areas of our work are very important and are about removing barriers to learning.  We are, after all, first and foremost, a place of learning and therefore learning and achievement are our number one priority.  This is because it is the results with which children leave us that determine their future.  Our curriculum underpins this.  We offer a very varied curriculum that remains broad and balanced until the end of year 9. We believe children should have access to a large range of subjects for as long as possible, so that they can develop deep knowledge and understanding in all subjects including the arts, PE and personal development and so they gain the cultural capital they need to succeed as a member of society.  Schools educate children in more than just the traditional subjects.  We teach them how to stay safe and well in an ever more complex world.  We have a top-class personal development programme that helps us do that and means children leave us with knowledge that will serve them well beyond school.  At KS4 we offer a wide range of subjects including more unusual choices such as Dance, Engineering and Health and Social Care.  Our choices in KS4 are based on a pathway system which provides equal access for all abilities and means that 50-60% of our students choose to do the academically demanding Ebacc suite of qualifications each year. We have a brilliant team of staff. You will not meet a harder working and more forward-looking or reflective staff body.  We embrace the latest research about how children learn and apply it to our practice in the classroom so that your children benefit from cutting edge effective teaching strategies.  That is how we help our children gain fantastic results and why 99% of our students go to further education or apprenticeships.  We always have an eye on the future when educating in the present.  
We have a comprehensive extra-curricular programme.  There is quite literally something for everyone.  We run trips abroad, such as those to Berlin, Uganda and the Belgian Battlefields; we have countless sports teams and fixtures to keep any budding sports star active; we have around 30 clubs to choose from with everything from Mind Kind club to science club and everything in between.  These aspects of school life give children opportunities to excel in different activities and environments and allow them to experience the rich culture by which we are surrounded. 
In summary, the way in which we run our school is very closely linked to our strapline ideals: Achievement, Excellence and Integrity.  We are experts in understanding how best children can achieve. We believe everything should be done to the best of our ability.  We have the highest expectations of ourselves and others, in every aspect of the school's work.  We have what some people call traditional values, but I think of simply as values.  We believe in a community where everyone is polite, caring and courteous and where we have respect for each other, our environment and, importantly, for ourselves.    We have the highest expectations of behaviour but we understand that we are modelling behaviour, shaping children, and teaching them how to behave. 
Everything we do at Testbourne is linked to our masterplan of moulding students who are confident and highly skilled in learning and achieving.  Colleges tell us that Testbourne students are independent and resilient and well prepared for the higher demand of their new courses. 
You will be reflecting on your imminent choices, weighing up what is best for your child.  Ultimately, you must make the best decision for you and your child.  I do not feel that my role is to give you a pressure sell: in my view the school, with its wonderful staff and its fantastic students sells itself.  You must decide that Testbourne is the best fit for you and your child – I am happy if your child finds a school that works for them, whichever school that is.  If you believe in the same ideals as me and you feel you can support us in implementing these, you should send your children to Testbourne.  If you want your children to be part of an ambitious achievement culture; to be taught by dedicated subject specialists; to experience the highest standards of behaviour, to be safe and happy, to be cared for and to settle quickly you should certainly have us at the top of your list.  We look forward to welcoming children from all walks of life into our school and to helping them be the best they can be.  
We will continue our journey as a top performing school of first choice in the area- I sincerely hope you will choose to be with us on that journey."