Music Tuition
We offer a range of Instrumental and Vocal lessons by experienced, well qualified and enthusiastic self-employed music teachers. 
Please click on the link at the bottom of this page to download an application form or email musiclessons@testbourne.school, for more information.
Timetable
Instrumental lessons are mainly taught during the school day and last for 20 minutes. The times of lessons are rotated to avoid a student missing the same lesson every week and will be displayed on the music notice board and are available to download from SharePoint at the start of each half term. Please find a link to the lesson timetables here on our SharePoint page.
Lessons Available
Strings: Violin, Viola, Cello
Woodwind: Flute, Clarinet, Saxophone
Brass: Trumpet, Cornet, Trombone, French Horn, Euphonium, Tuba
Percussion: Drum Kit, Orchestral Percussion
Guitar: Classical Guitar, Electric Guitar, Bass Guitar
Other: Keyboard, Piano & Vocals
We have a large number of instruments available to hire. Please contact us for further information.
Fees
For the academic year 2023-2024 the fee for individual instrumental lessons is £130 per term. Occasionally we can offer a group rate if there is another student of a similar standard. This can be discussed after an application is made. Please download and read our application form for more details regarding payment and fees.
Our Teachers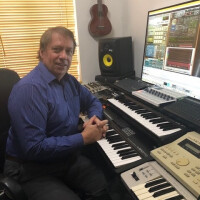 Paul Armstrong - Keyboard and Piano
Paul trained as an organist and teaches piano and keyboard with 35 years experience. He has toured with bands across the country and was musical director for a theatre company for five years. His music has been played at theatres in London and the RSC in Stratford. Paul has also composed music for promotional videos, short films, gaming and sound design. He has a 100% pass rate with Trinity grades and a number of his pupils have gone on to make careers out of music. He believes that if you are having fun you are learning. Paul also teaches guitar, drums, Irish whistle and music theory, with composition and music technology being a particular passion.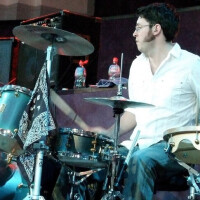 Tom Gregory - Drums
Tom has over 20 years experience teaching drums, he has written drumkit exam pieces for Trinity Guildhall, taught at the London Drum Show and the Music Ed Expo. He holds Guinness World Records for conducting the World's largest samba band and teaching the World's largest drum lesson. He is a busy performer and has gigged most styles of music during his professional career. At the moment he splits his time between his folk band and his Latin Jazz big band. He also particularly enjoys playing hiphop and funk.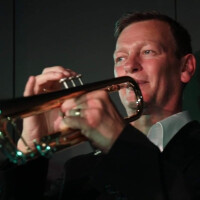 Alun Grace - Brass
Alun started playing the Cornet at the age of 9 in the Salvation Army. During his teen years he became the principle Tenor Horn for the Southern Divisional Youth Band. Alun has over 30 years' experience of working with Brass Bands, as a player and Conductor. In this time, he has spent a lot of time coaching players, the young and the more mature. In the last 5 years he has become a Brass peripatetic teacher and thrives in bringing the best out of his students. When he is not teaching, Alun plays Trumpet for Musical shows, a quintet and for a Soul band called 'The Flotonics'. He also works with local community theatre companies as a musical Director.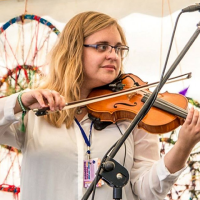 Anna Mullens - Strings
Anna studied violin at the Royal Birmingham Conservatoire with senior violin tutor Nathaniel Vallois and started teaching during her studies. After graduating from Birmingham with a BMus in Music, she moved back to Andover and started her teaching business. As well as teaching strings and piano to a wonderfully wide range of over 50 students both from her home studio and in several state and private schools, Anna also performs in a variety of settings, from folk gigs to pit bands. Additionally, she leads folk workshops for young people and adults, including being part of the team for the children's ceilidh band at Sidmouth FolkWeek.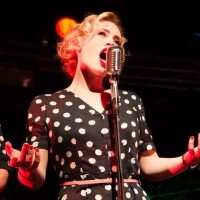 Louisa Revolta - Singing, Clarinet, Flute and Saxophone
Louisa is a highly experienced music educator and teaches singing, saxophone, clarinet, piano and music theory. She is best known for her group The Spitfire Sisters who regularly perform for high profile clients and tour theatres across the UK. She is an encouraging and engaging teacher who enjoys finding the best pathway of study for each of her pupils. She has a passion for jazz, improvisation and musical theatre but is classically trained and is comfortable with any style of music. Louisa has helped students achieve excellent results all the way up to Grade 8 with ABRSM, RockSchool and LCM. As well as regularly performing, Louisa also works as a session artist and has written and produced several albums for a variety of musical groups.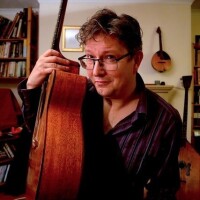 Adrian Zolotuhin - Guitar
Strummer of guitar and a plethora of fretted instruments, Adrian started performing professionally aged fifteen with Russian folk ensemble Kabak and alt-rock band Honeycomb Veil. Over the years he's played rock, pop, jazz, world music and orchestral styles, and has performed at venues from The Marquee club to the Royal Opera House. He tours regularly with Budapest Café Orchestra, instrumental ensemble Sultan's Picnic and funky pop band Twisted Karaoke. He is a regular collaborator with composer Howard Moody and his orchestra La Folia, and appears on the soundtracks of films & TV dramas including The Silver Skates, The Lost Prince, Our Kind of Traitor and Kursk.